Have you ever seen a biker with an empty vest?
Not likely.
That's because they decorate their vests with patches. Tons of patches!
Every time they participate in a special ride or event, or take a trip somewhere and want to remember it, they will decorate their vest or jacket with patches galore.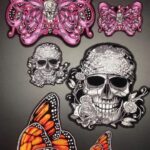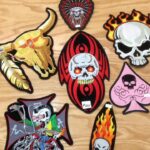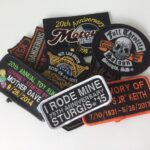 We have plenty of patches in all shapes, sizes and styles to satisfy every man, women and child.
We have every color you need for your embroidered patches.
Come by the store and see all the patches we carry.
If you want your own custom patch embroidered, tell us what you need and we'll put our embroidery machine to work for you.
We can create a special patch for any event, club, ride or memory you need.